Brokers, Introducers and Referrers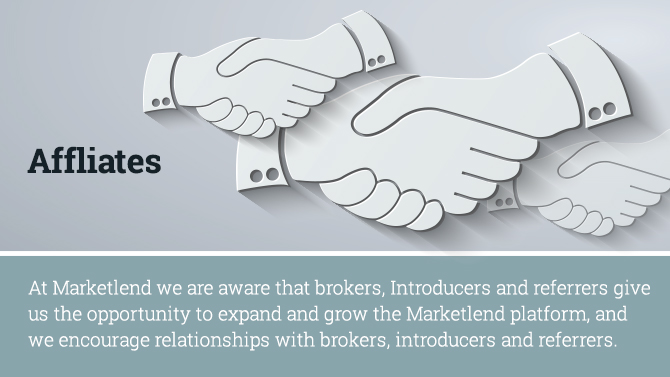 Referrers
If you know someone who is in need of a loan, or someone who is keen to obtain strong stable returns on their investments, or you wish to lend money to a person and need system processing like the MarketLend platform, feel free to contact us at assistance@marketlend.com.au
Subject to eligibility, we are happy to pay referrers on a one-off basis or on an ongoing basis for any referral that is successful.
Brokers & Introducers
We welcome brokers and introducers who offer sources or referrals by way of borrowers or investors, websites or companies that can refer applicants with quality credit or prospective investors for the investment in loans. If you'd like to discuss opportunities, please email us at assistance@marketlend.com.au
To enable us to determine the most suitable person to deal with your enquiry please advise:
Your company name and contact information.
The Website(s) or business where you would like to promote MarketLend.
An overview of your product or service including information about your typical customer and which geographies you serve.
A description of how you'd like to work with us.
As you can imagine we do obtain significant numbers of offers to partner with us and cannot respond to every response but we will endeavour to do our best to get back to you within a short period time. We look forward to hearing from you.