about us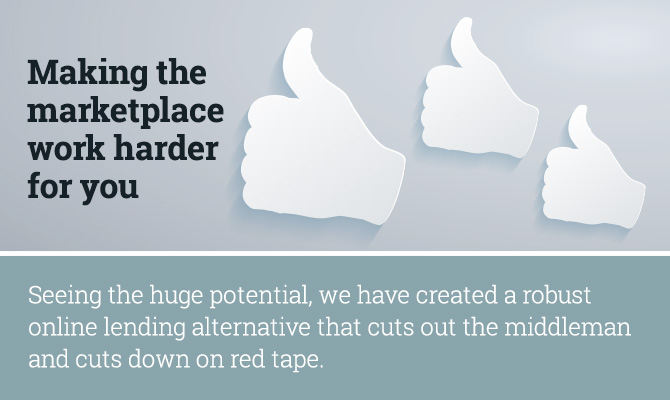 "We realised there are risks in peer-to-peer lending that can be mitigated, as banks do when seeking investors for their lending. So we replicated this structure to mitigate those risks.
Now investors and borrowers can enjoy the benefits of a marketplace that gives them the freedom and the confidence to do business more on their own terms without the banks. It's simply the way of the future."
Leo Tyndall, Marketlend Founder
Innovation, intelligence & due diligence
Leading in innovative thinking, Marketlend performed extensive research in the Australian lending market for lending facilities. As a result, it has established Marketlend, to fulfil a real need for both investors and borrowers alike.
Under the name Marketlend, we offer a marketplace lending solution using a hosted system that manages the entire peer-to-peer lending process. This service is further enhanced with insurance, a robust legal structure, predictability software for the rating of the risk, and a secure payment system. The process from application to paying the borrower can be a short as 10 minutes.
This proven system is already used in the UK and is leading the charge to create what is emerging as an estimated $1 Trillion loan market in the US alone by 2025*
Roles & Responsibilities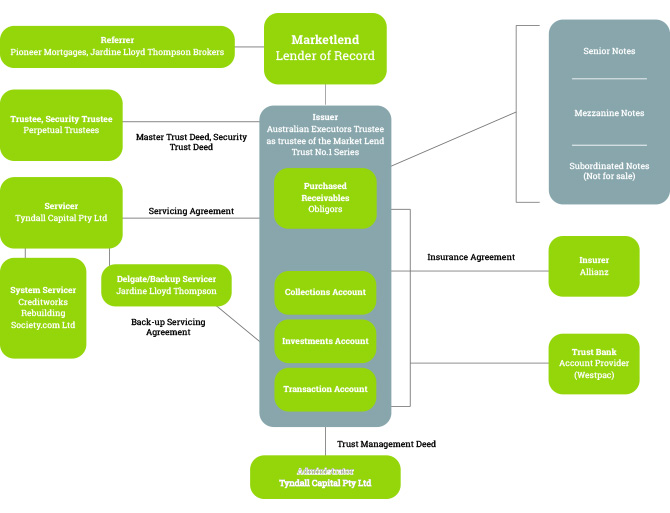 Compliance
Marketlend Pty. Limited is an online marketplace lender, or otherwise known as a peer-to-peer marketplace. Marketlend and its representatives manage the registration of borrowers, investors, originators, and affiliated parties. The information on the marketplace lending platform operated by Marketlend is presented on the basis that it is received. Marketlend makes no warranty or representation of the accuracy of the data or information on the marketplace lending platform. The issuance and sale of notes by a member investor; and the origination, servicing and collection of the principal and interest and other charges payable on the loans are managed by Marketlend, a wholly owned subsidiary of Tyndall Capital Pty Ltd.
Investors to participate on the marketplace lending platform are authorised to offer their notes for sale to other investors through the trading platform provided by Tyndall Capital. Tyndall Capital may use Registered Brokers or Dealers to trade notes.
A listing of the borrower's loan on the platform is called a borrower loan or note.
Approved investors can invest in listings and purchase from Tyndall Capital notes that are dependent for the payment received by Tyndall Capital on the corresponding borrower loan described in the listing or part thereof.
All loans are originated through the platform are made by Marketlend or approved intermediaries of Tyndall Capital.
*A Trillion dollar market by the people, for the people by Charles Moldow, General Partner, Foundation Capital, 2013)